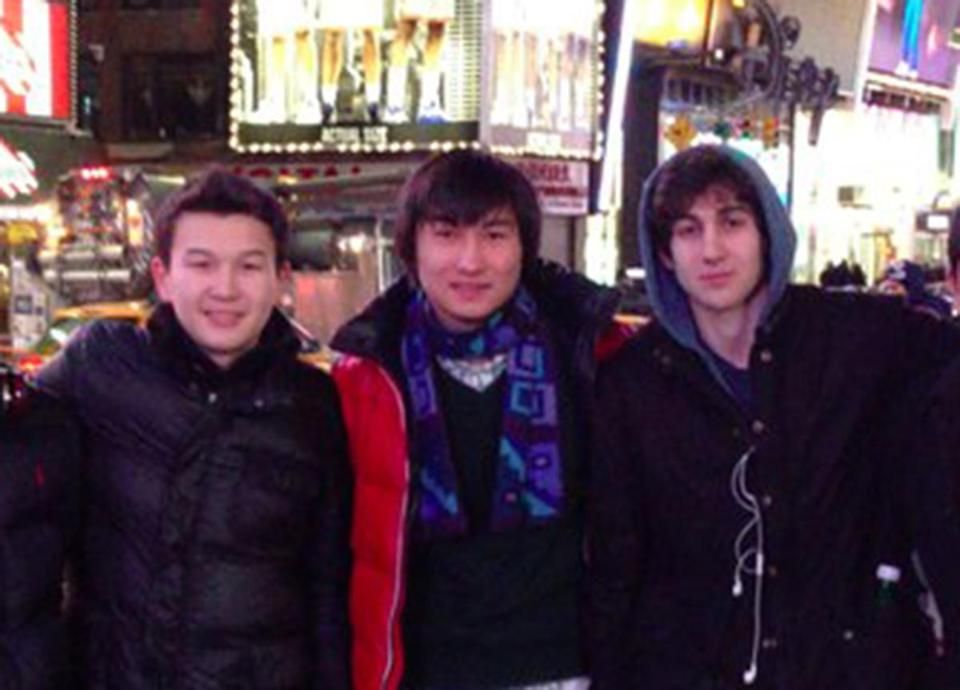 Azamat Tazhayakov (left) with Boston marathon bombing suspect Dzhokhar Tsarnaev (right) and Dias Kadyrbayev in New York.A college friend of accused Boston Marathon bomber Dzhokhar Tsarnaev could see his obstruction of justice conviction thrown out, his lawyer said, after the US Supreme Court ruled Wednesday that a Florida fisherman could not be prosecuted under a law aimed at misdeeds by Wall Street businesses, bostonglobe.com reports.
Azamat Tazhayakov was tried and convicted in US District Court in Boston last year for obstruction of justice under a federal law enacted in the wake of numerous Wall Street scandals in which company officials destroyed internal records, reports Boston Globe.
The judge had postponed his sentencing as the Supreme Court decided a case known as Yates, which would determine whether that same law could apply to a Florida fisherman accused of destroying evidence that was not paperwork — in his case it was red grouper; in Tazhayakov's case, he was accused of getting rid of Tsarnaev's backpack that contained fireworks.
In a 5-4 ruling Wednesday, the majority of the US Supreme Court ruled that federal prosecutors were wrong to use that law in Yates' case, and overturned his conviction.
Nicholas Wooldridge, Tazhayakov's defense attorney, said in a telephone interview Wednesday that the majority's ruling appears to clear the way for his client's conviction to be thrown out. US Attorney Carmen Ortiz would be barred from trying Tazhayakov again under double jeopardy, he said.
"It looks like we could be in a very good position, but until everything is said and done, I don't want to start celebrating too soon,'' Wooldridge said. "I would say that I am purchasing champagne, but I am not ready to open it yet.''
Tazhayakov was convicted of obstruction of justice for removing Tsarnaev's backpack from his dorm room at UMass-Dartmouth and throwing it in a dumpster after Tsarnaev was identified as one of the suspected bombers.
A second friend of Tsarnaev's, Dias Kadyrbayev, pleaded guilty to similar charges, but it was not immediately clear what impact the Supreme Court ruling will have in his case because of his decision to voluntarily admit his role.
Last fall, US District Court Judge Douglas P. Woodlock postponed the sentencing for both men until the nation's highest court resolved the Yates case. At the time, Woodlock wrote that he would have to review Kadyrbayev's guilty plea through the prism of the Yates decision.
"The uncertainty affects not merely the post-trial motions and sentencing in Tazhayakov but also my evaluation of the knowing and voluntary quality of the defendant Kadyrbayev's plea,'' Woodlock wrote last fall.
Kadyrbayev pleaded guilty under an agreement that he would serve seven years in prison.
Tsarnaev's backpack contained a thumb drive, but Tazhayakov's lawyers successfully argued during his trial that there was no evidence that Tazhayakov knew the backpack contained the thumb drive. The jury also acquitted Tazhayakov of charges of obstruction of justice for taking Tsarnaev's computer from his dorm room.
Wooldridge said he recently spoke with Tazhayakov, who is in the custody of the Essex County Sheriff's Department while his case is resolved.
"It's not all the time that I have a connection with my client,'' Wooldridge said. "But I really do have a connection with him. He's a good kid. He's been in there for nearly two years, and I am excited for him to come out. He really deserves to come out of there.''
The judge has written in court papers that the Yates decision would not affect the case of Robel Phillipos, another Tsarnaev friend, because he was convicted under a different federal law that makes it a crime to life to FBI agents.